Last week I was busy in designer mode. Icreated a new series of T-Shirts and cards.
These were created using a new technique which my wife taught me using Microsoft Office Word and Paint.
Initially getting things just right was not easy, but things are never easy when you don't see too well are they? So with some perseverance over a couple of weeks I have a working strategy to create all sorts of things.
Here is my TGIF T-shirt, the style shown here is for women but the design is available for men and children or babies too. You can find those sizes and styles through this link and then clicking on the right side of the page which comes up where you find "See on All Number of Styles"
Here it is take a look and let me know what you think or share a link if you really like it.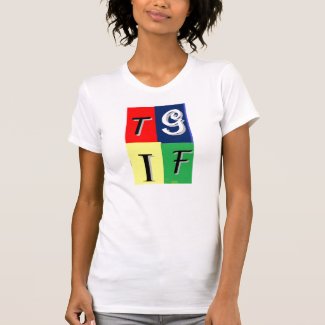 TGIF T-SHIRT
by
Bretsuki
Browse William elliott T-Shirts online at
Zazzle.com