Have you seen anyone with an iPhone 6 plus yet?
I haven't. And no that is not just because I am blind, thank you.
No one has come up to me to show their bright new shiney phone. No-one has called me to tell me they have a nice new iPhone 6 Plus. They seem only to exist in the realms of TV advertisements and on the showcase stands of my local Best Buy stores.
I have seen one. I even liked the look and feel of the nice display one whivch I first drooled over almost six weeks ago now.
I had planned on upgrading my old phone to an iPhone 5 when the price fell after the release of the sixes, but that didn't happen. In fact to upgrade from my old phone to an iPhone 5 would cost me only $100 less than to go all-in with the iPhone 6 Plus.
So why not go for that product.
I now sit patiently waiting. I call my phone company, I call Apple, and I call Best Buy.
"Have you an iPhone 6 Plus?" I ask hopefully.
The reply always the same "Not yet."
I long to ask Sirie to make my calls, I want to send texts again, I yearn to be able to take a good photograph on its magnificent camera.
I Wanna be a Geek again!
Sadly I'll have to wait a bit longer. Dreaming of the day when I will hold the sleek line of its body in my hand. Caressing its screen. Texting and posting merrily.
Or maybe I'll just wait 23 months until the iPhone 7 comes out and I can get the 6plus for the same price as a 5 now?
To read my first opinions of the iPhone 6 Plus click here
iPhone6--plus-first-opinions.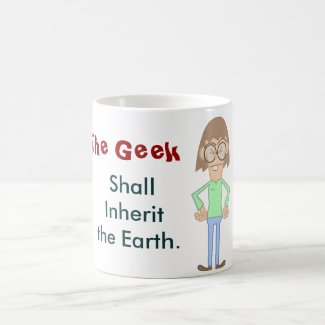 The Geek Mug
by
Bretsuki
Get custom
imprinted coffee mugs
online at Zazzle.